The UK's transition from the Common Agricultural Policy began on 1 January 2021 and from this date, the government will gradually reduce then stop untargeted Direct Payments.
The government has committed to investing the same amount each year in Agriculture, through the life of this Parliament, to the end of 2024. The funding cuts from Basic Payment Scheme (BPS) will be recycled into other schemes such as productivity grants schemes and pilots for new schemes due to start. The overall aim is to improve the environment, animal health and welfare and reduce carbon emissions.
There will be three levels of support aimed at paying for sustainable farming practices, creating habitats for nature recovery and making landscape-scale change such as establishing new woodland and other ecosystem services. Some options will be universally open to all farmers and land managers, while others will be targeted at a smaller number of large projects.
Significant grants will also be made available to support farmers to reduce their costs and improve their profitability, to help those who want to retire or leave the industry, and to create new opportunities and support for new entrants coming into the industry.
Key changes
Defra published 'The Path to Sustainable Farming: An Agricultural Transition Plan 2021 to 2024' on Monday 30 November. This document sets out how the current schemes in England will change, alongside how new schemes will be piloted and introduced over the next 4 years up to 2024. It is accompanied by a shorter summary 'Farming is Changing' which will be sent to all current Basic Payment Recipients in due course including an adviser pack which contains information and resources related to the changes.
Existing Schemes:
Basic Payment Scheme payments will be gradually reduced starting in 2021, with at least a 50% cut by 2024. Reductions beyond 2024 are not currently set out but 2027 will be the final year of BPS payments.
Countryside Stewardship agreements signed under EU regulations will continue.
New Simplified Countryside Stewardship agreements will be available from 2021, with the last application window in 2023, for a 2024 start.
Forestry and woodland grants along with funding will continue to be available from the Forestry Commission. Future changes will come via the Tree Strategy which is due to be released early this year.
New Schemes between 2021-2024:
An Environmental Land Management Scheme (ELMS) will be gradually introduced through pilots and tests from 2021-2024.
A Sustainable Farming Incentive (SFI 2022) will gradually be introduced from 2022 and run to 2024, when the full SFI will be available.
Pilots for the Local Nature Recovery and Landscape Recovery parts of ELM will run until 2024.
The pilot for the Tree Health Scheme will start in 2021, for which eligibility is still under consideration: the aim is to benefit tree, woodland and forest managers with tree health issues, and potentially expand eligibility beyond the current offer which may include hedgerows, roadside trees and trees in parks and parklands.
The Farmers in Protected Landscapes Scheme will run from 2021-2024 and will deliver funding through the Protected Landscapes bodies to support farmers, particularly upland farmers (75% of whom live and work in Protected Landscapes) to make improvements to the natural environment, cultural heritage and public access on their land.
The Farm Resilience Scheme will run from 2021-2024 to provide advice and support for farmers affected by the changes in BPS.
The New Entrant Scheme will run from 2022-2024. This scheme is still in development but will offer support to councils, cooperative and community land organisations, local partnerships, and private and institutional landowners to provide long-term opportunities for talented new entrants.
A BPS lump sum exit scheme will be available in 2022, subject to consultation early this year.
New Schemes from 2021 which will run beyond 2024:
The Innovation and Research programme will run from 2022 to 2028 and aims to bring researchers, innovators, farmers and foresters together to drive transformation of the sector. There are three funds with differing size projects and durations to meet different needs.
The Farming Investment Fund will be introduced from August 2021 and will run to 2026. This is intended to provide grant funding for buildings, reservoirs, machinery, forestry equipment etc.
A new Slurry Investment Scheme will be introduced in 2022 and run to 2025 in order to provide grants for slurry management to reduce risks of environmental damage.
An Animal Health and Welfare Pathway will run from 2022 with support for health and disease management, capital grants and payment by results. There will be small and large capital grant schemes that can be used to support investment in livestock handling facilities and equipment to improve biosecurity, for example. The grants will be available from late 2022 or early 2023.
Schemes to be fully introduced from 2024:
Full launch of the Environmental Land Management scheme:


Sustainable Farming Incentive – This scheme will reward farmers for actions taken to manage land in an environmentally-sustainable way. Actions will be grouped into simple packages to make it as easy as possible for farmers to identify what actions are best suited to their land. The scheme will support farmers with developing a whole farm plan to help make land and businesses sustainable.


Local Nature Recovery – This scheme will pay for actions that support local nature recovery and deliver local environmental priorities, making sure the right things are delivered in the right places. The scheme will also encourage farmers to work together to improve their local environment.


Landscape Recovery – This scheme will support the delivery of landscape and ecosystem recovery through long-term, land use change projects, including projects to restore wilder landscapes in places where that is appropriate, large-scale tree planting and peatland restoration projects.
Tree Health Scheme

Delinking of remaining Basic Payments
The chart below details the government's spending plans across three areas from 2021/22 to 2024/25. These are the first four years of the agricultural transition period and are covered by the government's commitment to maintain current levels of spending in England, based on 2019 funding levels: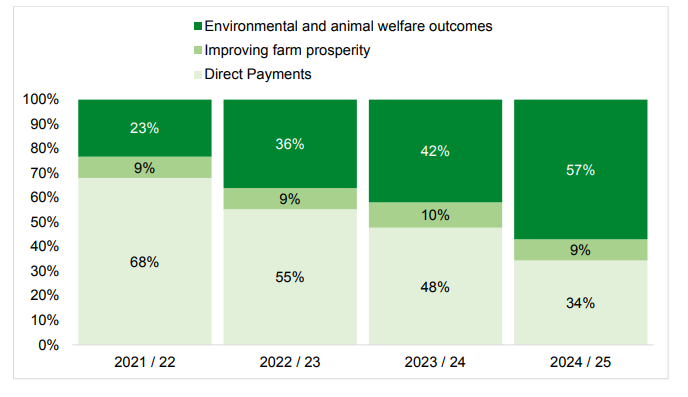 What these changes mean to you
For many farmers the most significant change will be the cuts in BPS. These payments will be phased out over the next 7 years, with the final payment in 2027. In 2021 Defra is applying progressive cuts, where there are higher cuts for larger recipients. In 2022, 2023 and 2024 there will be additional flat rate cuts for all applicants of 15% each year.
This will result in reductions by 2024 of around 50% for the majority of recipients, and increasing to over 60% for the largest recipients as shown in the table below: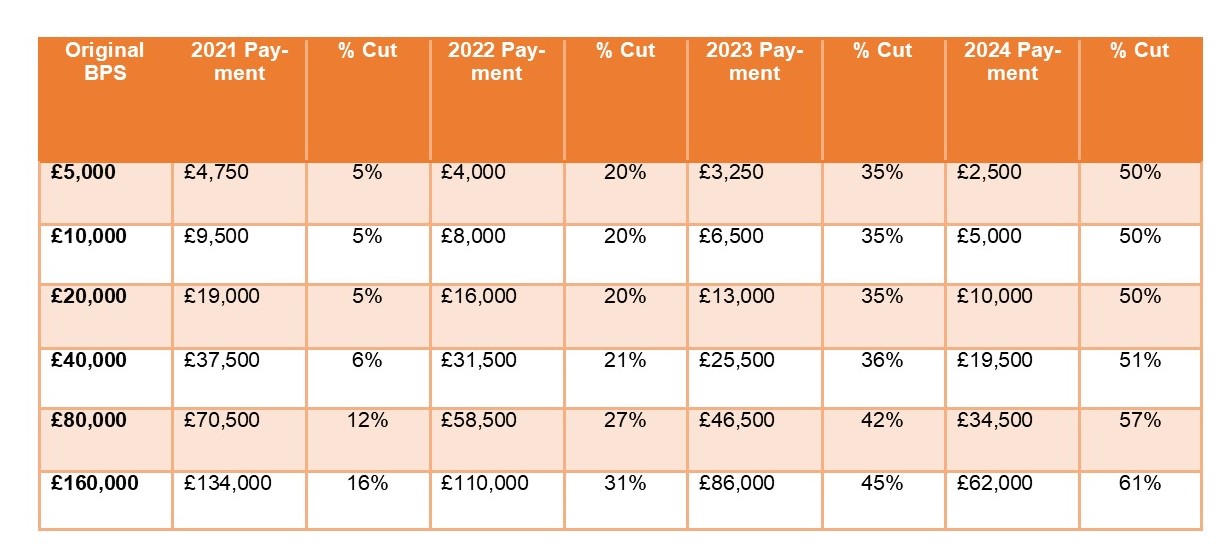 Defra plans to gradually introduce the Sustainable Farming Incentive from 2022 (SFI 2022) which will be easy to access and available to all BPS applicants who can deliver the required actions. This will compensate for the loss of BPS to some extent, but it will not replace it all. As the scheme is in development, more details are expected in the first half of this year. SFI 2022 is expected to be based around a number of packages that support environmentally sustainable farm husbandry e.g. soil management, arable and grassland options, farm woodland and management of boundaries (hedges and walls). Farmers and land managers will have the ability to sign up to the options that suit their business. A number of options will be available over the 2022-2024 period, before the ELM scheme is fully available.
What you can do now
Losing Basic Payment income will result in a need to review the profitability of your farm which may involve making changes to reduce the cost of production, become more efficient and potentially investigate new markets.
In the short-term, before the Environmental Land Management (ELM) scheme is fully available in 2024, the new simplified Countryside Stewardship Scheme could provide additional income and will be more attractive than the previous schemes. Given the environmental focus of ELMS, the Countryside Stewardship Scheme could also be a useful stepping-stone for those who have not been involved in the agri-environment before, or those who wish change existing stewardship agreements.
A large proportion of farming businesses already have some diversified income sources, and it may be that this will play a more important part of the overall business income in the future. Diversification is not for everyone, but options for new opportunities or expanding existing businesses could also generate further income. However, to diversify successfully you need to have a strong core business. While diversification can provide additional income, if the central business is not strong, diversifying can risk both the old business and new. There are a number of options available for those looking to diversify but each option comes with added accountancy, tax and VAT implications.
We have had many conversations with our clients regarding these changes, as well as diversification and the subsequent effects, and we should be delighted to speak to you too. By thinking about tax, taking advice and planning accordingly, you should be able to benefit from diversifying and cashflow management without comprising your tax position.