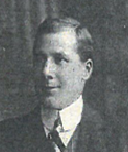 How did you decide to become an accountant?

My Grandfather, Arthur Hasting Septimus Glenton, set up in practice as a chartered accountant with his cousin Wilton Ryecroft in 1901 in Pilgrim Street, here in Newcastle. My uncle, Ray Glenton, joined his father in 1935.

When I left school, having been set the unenviable challenge of following in my father's footsteps and winning a scholarship to Cambridge (result – failure!), my mother discouraged me from joining my father in the law. Instead she pointed me in the direction of my uncle. Thanks to my mother's excellent advice I am very close to reaching my 60th year as an accountant…
What is your role as Senior Partner?
Overall strategic direction, professional standing and financial sustainability of the firm.
Partner appointments and retirements.
Client responsibility for wide range of mainly long-term clients in respect of tax, financial/trust and general business advice including estate/IHT planning and executory work.
What makes RG different?
We offer a fully integrated range of financially based services, covering a wide spectrum of advice and guidance to clients as a 'one-stop shop', including financial services through our subsidiary company Portland Financial Management Limited. Clients are at the very centre of everything we do and our aim is to become and remain their trusted adviser. We work on an 'open-door' policy; lines of communication throughout the office are short and inter-change of knowledge and experience at all levels is very much encouraged.
In your 60 year career what stands out most?
Seeing the firm thrive! We now number over 100 people and my son Peter is the fourth generation to practice in Newcastle.
Having the privilege of working – and continuing to work – with outstanding partners, directors and staff who, together with our loyal clients, have made my career a real pleasure.
Tell us about a typical day
Firstly, I suppose I am atypical in that – other than the cleaners – I am the only one in the office without a computer on my desk!
However, my excellent secretary Jo ensures that I read hard copies of copious emails daily and she has the pleasure of typing and despatching my messages and responses.
I tend to arrive about 9am-9.15am other than on my once weekly gym morning when that slips an hour; I generally work through until about 7-8pm most days. Email reading and responding, client meetings, phone calls and sometimes charitable work alongside practice administration duties fill the day – and to some extent the timesheet!
I am meant to be working only a 4 day week but have been seen in the office on Fridays; though that's balanced with taking regular holidays, which I feel I'm allowed to do at my age!
You mentioned charitable work – can you tell us more?
I've been very lucky to have been involved in some most interesting outside activities over the years. I was in the Royal Artillery, Territorial Army for over 30 years and now chair three Military based charities – the Northumberland Branch of the Soldiers Sailors and Airmen Family Association (SSAFA – The Armed Forces Charity), The Viscount Ridley North of England Cadet Forces Trust and The Londonderry Hall (South Shields) Trust.
I have sat on the Newcastle Cathedral Finance Committee forever and have chaired the Bishop's Cathedral Council for several years and I am chairman/trustee of four local grant making charities which are run here in the office.
Would you recommend outside engagements to your fellow professionals?
A very positive 'Yes' in principle. Even though we are all very busy and have the 'tyranny of the timesheet' overhanging us, there are 168 hours in the week and mostly we work, say, 40 of them.
The contribution each of us can bring to outside organisations is invaluable and very rewarding too.

What outside appointments have you enjoyed most?
Being an accountant/finance person opens most doors. The finance department is the heartbeat of every business so your credentials should speak for themselves.
I served on the board of the Newcastle Building Society for 20 years and was chairman for 6 and was a board member and chairman of a foundry company in South Shields for 15 years.
Probably the most interesting appointment was to the Port of Tyne board which I had the privilege of chairing for 11 years during which time we managed to escape enforced – and unwelcome – privatisation.
On the non-work related side it was a pleasure to serve as Deputy and then Vice Lord Lieutenant of Northumberland for 28 years.
And finally, leave us with one interesting fact about yourself..
When I was in the TA, and in the days of the Cold War (before the Berlin Wall came down), I was responsible for a Nato roled Royal Artillery regiment of over 500 soldiers and the deployment of 24 x 105mm Light Guns on the eastern border of West Germany pointing, loaded and laid, at the Soviet Union. Fortunately we were never provoked to pull the trigger…